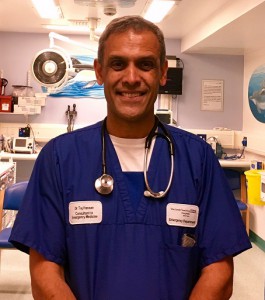 Predicting the future has always been a tricky business as events of the last 12 months or so have proven. Writing this blog requires a small modicum of peering into the future (by about 4-6 weeks or so) but I try hard to stick to the facts I am fairly certain about. Peering into the future is also what many 'wise' heads are trying to do with the Sustainability and Transformation Partnerships (I know, they used to called programmes!) in England as they try and predict what the future of the health service should/will look like over the next 2-5 years, never mind a few weeks. Varying levels of reconfiguration are also going on in the rest of the UK & Ireland too, though there seems a greater level of prudence being exercised in those countries on how to progress.
The problem for England sadly is that there has not been the level of engagement and transparency that one would like in trying to navigate or predict such an important path and where the lives of hundreds of millions of patients and staff will be affected. With that in mind, there is always a sense that although the College is gliding along smoothly in calm waters on the surface, beneath it there is much frantic paddling trying to firstly make sense, secondly engage and thirdly influence our colleagues at NHS England. They seem utterly fixated on some pretty radical reductions in acute beds in the NHS and of course that 'dream of the decades' – the reduction of ED attendances in a system by 15-30%! In the context of entering another winter period with the worst system performance figures for 4hrs, increasing demand and the pretty fragile staffing levels for so many systems it is a remarkable state of affairs. The battles to make sense, engage and influence are therefore being fought at many levels. I thought I should share with you just 3 areas this month where we are making progress at a strategic level and I believe influencing to create better change for our patients, you our members and of course all the other staff who work with us in ED.
Strategy – RCEM Vision 2020
By now I hope you will have read the RCEM Vision 2020 that we launched in late July. We have consulted widely on this and we are grateful for all the feedback. This is the solid platform that we are using to drive our core policy agenda in England and the Vice Presidents in the devolved nations are developing tailored solutions with their national Boards. The focus on the three themes of Staffing, Systems & Support has and will allow us to engage with every level of politician and civil servant in the health service and advocate for change in a cogent manner. Our key 'asks' of improved staffing levels, training numbers and increasing the number of acute beds by over 5000 have been clear and unambiguous.
Creating impact in systems
Of course having a strategy is one thing, it's quite another to actually get people listening in the corridors of power. Then just a small skip and giant leap to persuade them that what you are saying not only has merit but that they should actually do something about it. That is what we have spent six months doing. The discussions have been clear and constructive but laced with a healthy dose of frustration. More recently, we have had to become more strident to make clear how badly our urgent and emergency care systems are struggling and the need for a significant step change.
We have had good success in terms of the 'Systems' aspect as you know with the publication of NHS Improvement's Good practice guide – Focus on improving patient flow which the College was pleased to contribute to and influence. The major focus on flow addresses one of our major concerns – the ability of the wider system to take responsibility to minimise exit block and prevent our EDs from becoming overcrowded. From feedback, some people have been pleased with the clarity on the integrated approach of the 'Front Door of ED' or the greater emphasis on full capacity boarding around the hospital to share the risk of patients awaiting specialty care beds.
Hidden in the document are areas of focus that we have advocated long and hard for. An important one is the concept of ensuring that there are enough senior decision makers rostered to cope with the different demands placed upon consultants, senior trainees and specialty doctors in ED especially at times of surge. The concept of resourced co-location of services is given a high profile, something that we as a College have advocated for certainly the 12 years I have been involved in College work. There is a lot of other great stuff in there and I warmly recommend the document to you. I hope you can use it with your wider system colleagues to try and stretch the scarce resources we have to be used most wisely now and in the months ahead. Of course it doesn't really talk about the bigger plans and predictions but at least it provides some sense of pragmatism and focus on how to get everyone working well together for the months ahead (I cannot bear to call it Winter Planning I am afraid!).
The elephant in the room – staffing!
Of course no amount of managerial optimisation can get us away from the major ticket item. How do we best create and deliver a clinical staffing model for Emergency Departments that is safe, sustainable and satisfying for the life time of the emergency physician?
I can assure you that this aspect has occupied most of my time in hard negotiations with colleagues at NHSI, HEE, NHSE and the DH over the past 6 months as well as briefing the new Health Advisor at No 10 Downing St. My central thesis to all has been clear. We must create the right 'shared vision' for all in Emergency Medicine from a young medical student energised by being on attachment to the ED, through to the experienced Clinical Director trying to maintain a safe staffing rota and wanting to inspire his clinical staff. We have made very good progress indeed on a number of fronts but all negotiations must have a timetable. We hope that the discussions will succeed but have been clear in our 'red lines'. We hope that in late September or in early October at the very latest we will publish those proposals on a clear strategic way forward.
It has been a source of much frustration that it has taken so long and there is a perception by some that we have perhaps not been as high profile as they would like 'banging the drum' in the media. Some of you have rightly fed that back to me directly and I thank you. The job of the president therefore can be a little less than joyful trying to navigate a path of representing you, the members, to the best of my abilities and to negotiate firmly and fairly behind closed doors. Playing the 'media card' is fine of course but striking that balance requires judgement and the wisdom of Solomon at times it seems. Only time will tell of course but I remain optimistic that we can find a good way forward.
And finally…
The planning for the Celebration Week of the Golden Jubilee celebrations continues at some pace.
If you have not done so, please do;
Register your interests
Register your team at RCEM by emailing us.
We will be putting up ideas on the website and you can be better linked to the celebrations as we progress.
Tell us your Organising Committee and contact details by emailing EM50@rcem.ac.uk
The main themes of the week are for us to be able to:
Celebrate our specialty and the work we do as a College with partner organisations all over the UK, Ireland and internationally
Educate the public in various aspects of our work and 5 key areas that will help to save lives and keep them well
Inspire the next generation with opportunities to help support improvement through fund raising for the work of the RCEM Foundation which also has launched this year. We want to raise funds the Foundation which will help research and education in the UK & Ireland as well as internationally.
We know that many regions are having celebratory events and we can send you Celebration Packs from the College to help in that. We also hope to light up buildings around the country in College colours. In addition, a number of cities around the UK & Ireland as well as other parts of the world are now planning to light up various buildings and monuments which is absolutely fantastic.
So we really hope we can have everyone's help in this once in a life time celebration!
October promises to be exciting on many fronts – I can predict that much!
Dr Taj Hassan
President, RCEM