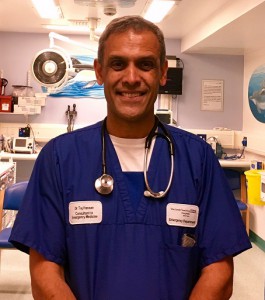 Celebrating excellence in 2017!
August is of course a month of holidays, heat (even in Yorkshire!) and the heady atmosphere of welcoming the most junior doctors into the joys of working with us in the Emergency Department. Some will be inspired from the beginning, some bedazzled by the seeming chaos (but actually sheer complexity) of what we do and all will no doubt appreciate the sense of 'team' that is so unique to our environment. I have no doubt you will all have well structured induction programmes for them and more importantly be able to give them that extra time to explain, educate and provide pastoral support at this vital starting point in their young clinical careers.
On to other matters. There are three things I wanted to share with you this month.
Planning
The planning for the Celebration Week of the Golden Jubilee celebrations continues apace. In the week of 9 – 13 October 2017 we will be having a major focus celebrating 50 years since the inception of the specialty and we want to ensure that we can find ways to allow every Emergency Dept in the UK & Ireland to be involved even in some small way.
By the time you have read this in August, we will have published guidance for you. In summary:
Step 1 – Organise your ED Celebratory Team
Form a core Organising team to maximize engagement in your ED and the rest of the hospital too for that week of 9-13 October 2017.
Make sure your Celebratory Team has a good mix of doctors, nurses, managers, students, AHPs and others – anyone who works in the ED!
Step 2 – Build momentum
Get your local social media experts involved to build a presence to start talking about the celebration week
Decide how you want to best advertise the week and how to organize your team to support events each day of the week – depending upon where you want to run events.
Step 3 – Register your interests
Register your team at RCEM by emailing us.
We will be putting up ideas on the website and you can be better linked to the celebrations as we progress.
Tell us your Organising Committee and contact details by emailing EM50@rcem.ac.uk
This means you will get latest news as we progress.
Key themes
The main themes of the week are for us to be able to:
Celebrate our specialty and the work we do as a College with partner organisations all over the UK, Ireland and internationally
Educate the public in various aspects of our work and 5 key areas that will help to save lives and keep them well
Inspire opportunities to help support improvement through fund raising for the work of the RCEM Foundation which also has launched this year. We really want to raise as many funds as possible to help launch the Foundation which will help research and education in the UK & Ireland as well as internationally.
The week is also themed by the day of the week into:
Monday 9 Oct – World Record Attempt – At 09.09 hrs on 9th October we will launch the RCEM Celebrations with an attempt at a World Record to try and teach basic life support (BLS) to the greatest number of people simultaneously in the UK & Ireland for a 2 hr period. We hope you will join us by helping to form a team that can support teaching that day. We will be teaming up with the Red Cross, Resuscitation Council, St Johns and others on this great day.
Tuesday 10 Oct – World Mental Health Day. We want to support World Mental Health Day as we know a significant proportion of patients attend our EDs with mental health problems
Wednesday 11 Oct – Violence prevention & drinking alcohol responsibly – A range of excellent strategies have been developed and disseminated to help reduce violence related to alcohol and we want to raise awareness in this area on this day.
Thursday 12 October – Accident prevention in the very young and very old. We have teamed up with ROSPA and others to really drive home the importance of this work.
Friday 13 October – Exercise and wellbeing. This applies equally to the fantastic staff who work with us in our departments as well as the public. We want to highlight the importance of spending time on wellness strategies for you as staff who work so hard to deliver safe effective care in our EDS 24/7 and hope this will be a great way to finish of the week.
So please do get involved in that week in October. We want to really celebrate the very best of our specialty and our College as well as educate the public and inspire people to support the work of the RCEM Foundation.
And finally…
As I highlighted in my monthly RCEM newsletter in June, none of us can have been failed to have been moved often to tears by the responses of the emergency services and the NHS to the terrorist atrocities and the awful tragedy at Grenfell Tower in March, May and June of this year.  The events have brought out the very worst and yet also the very very best of humanity.  Staff have responded with professionalism, dedication, heroic actions and a bravery ( especially the fire crews running towards such danger at Grenfell ) that has left us at times quite speechless.
And amongst all that are the ambulance crews, doctors, nurses, managers and so many others in the NHS who have cared for the injured, resuscitated and saved the lives of so many and supported those who have been so badly traumatised by events mentally. Clinicians in emergency medicine have of course been in the midst of such major incidents and those of us not directly involved have looked on with admiration and pride at the way our colleagues have carried out their duties with such calmness, dedication and expertise. The urban trauma systems in Manchester and London are amongst the very best in the country if not the world and it is amazing to see such professionalism and passion by colleagues in Emergency Departments and the rest of the hospital helping in such circumstances. Our forefathers of 50 years ago would have been very proud of us!
Thank you to everyone involved.
Dr Tajek Hassan
President, The Royal College of Emergency Medicine
@RCEMPresident