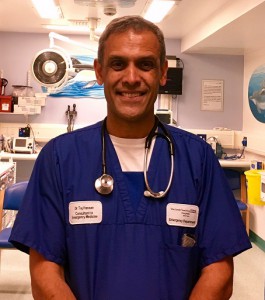 Celebrating excellence is the key theme of the next few months! Mainly because there is so much to tell and enthuse you about that I thought it would be good to focus purely on celebration – the why, how, what and where! If you want to catch up on some of the more serious battles with governments and their allied departments I would like to direct you to our College homepage and latest press bulletins.
Why?
There can be no greater joy then celebrating the birth of a specialty especially when it is your own! It is remarkable that on 12th October 1967 a group of 9 emergency care clinicians met to set up the Casualty Surgeons Association led by Mr Maurice Ellis as its President. Indeed we were the first in the world, with the American College of Emergency Physicians forming in 1968 and others including Australia and Canada thereafter. 'Father' Ellis ( as he was known) at the time was a consultant in A&E at the Leeds General Infirmary. By a strange quirk of fate and timing, 50 years later it is my pleasure and honour by being your President based at the very same department in Leeds.
It has been a remarkable road that we have travelled and due in large measure to the incredible hard work, tenacity, fortitude, political skills and personal sacrifice of a relatively small number of colleagues through each decade to get us to where we are. Now, we are a proud Royal College with over 6,500 members that sits at the 'top table' with governments and positively influences policy making in emergency care system design for our patients and indeed our members.
The need to celebrate is thus obvious and we have spent some considerable time thinking of ways in which we can do that with flair, excitement, a strong sense of legacy and of course cost effectiveness (after much 'gentle' feedback to the President from our CEO & Treasurer!).
How & When?
By the time you read this, we will have sent you all information to be able to:
Enjoy finding ways to celebrate in your region or nation. In some regions this is being done with a celebratory meal, in others with a regional study day. We will send out a toolkit of how you can do this but leave it to yourselves to be innovative and impactful as only Emergency Department teams can be!
We will be having a Celebration & Fundraising week October 9th to 13th 2017 during which we want to really raise the profile of the specialty and our College. We want the celebrations through out to be really multi-professional and hope you can entice your nursing colleagues, managers, AHPs, medical students and any one else you can think of…but probably not some of the regular attenders who like to come to visit your departments!Again in brief we want you to be able to celebrate during the week but to give you an idea of some of the things we are hoping you might want to help contribute to:

a) World Record Attempt – At 09.09 hrs on 9th October we will launch the RCEM Celebrations with an attempt at a World Record to try and teach basic life support (BLS) to the greatest number of people simultaneously in the UK & Ireland. We hope to continue that throughout the day in towns and schools and hope you will help us. More on that soon.

b) Themes to help celebrate – During the rest of the week we will be having other themes that we think are important in helping the public stay well – violence prevention, alcohol awareness, mental health, prevention of accidents and regular exercise for well being and wellness. We hope you will join us or find different ways in which to celebrate and fund raise.

c) Fund raising – A key aspect during the week is to raise money for charity. We would like to have 50% of the fund raising go to the RCEM Foundation which we have just set up to support research and training in the UK& Ireland and the developing world. The remainder we would be keen to have EDs give to a local charity of their choice in the name of the RCEM Golden Jubilee Celebrations. We think this would form a great legacy!
Where?
There are 3 other things to tell you about that are important dates of where you need to be to help celebrate our specialty's birth .
On November 17th 2017 we will be holding a special academic day at the Royal Society of Medicine that we think will be really outstanding. It will be an opportunity to meet up with colleagues and also listen to some of the most outstanding speakers in emergency medicine. Tickets will be limited and are likely to go fast as we have aimed to keep the price down. Please do secure your place quickly as possible and even better find ways to support / sponsor some of your younger trainees to attend.
The Annual RCEM Autumn Conference in Liverpool promises to be an excellent affair – the last 3 conferences have all sold out early. This year will of course be very special not only because of the celebrations but also because it will be the inaugural RCEM Awards for – best ED team, best Training dept, best patient experience project and best QI project of the year. I strongly recommend you come.
Finally, we are hoping that we can celebrate in a special way on 12th October 2017. Watch out for a special lighting up of what the specialty has achieved on that date!
Finally…for those with puppies – the Hassan puppy won an award for good behavior at puppy class! Sadly this has not been replicated at home where he has taken to waking at 0530hrs with much whimpering and barking. Advice on improving matters appreciated!
Dr Tajek Hassan
President, The Royal College of Emergency Medicine
@RCEMPresident