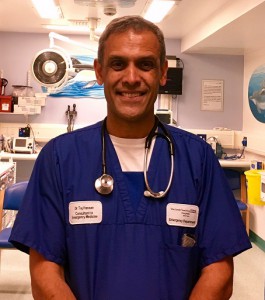 Historic moments in time tumble all too regularly it seems into our lives in different ways. Yet for us in Emergency Medicine in the UK and Ireland this month can be viewed truly as one we should spend a few moments in order to savour, reflect and also to look forward. Fifty years ago this month Maurice Ellis and nine other colleagues met to set up the Casualty Surgeons Association. Little could they have predicted where their passion, dedication and tenacity would lead them and those who they enthused and inspired in the decades after them. No doubt though that the old adage espoused by the famous management guru, Peter Drucker, holds so true – The best way to predict the future is to create it. So this month is a chance to savour, reflect and look forward so that we can also help to create the future that we seek.
Our specialty and our Emergency Departments have undergone remarkable transformation in the face of some incredible challenges and headwinds. We have gone from humble beginnings to a strong specialty with over 6,500 members. As a Royal College we set academic standards, provide high quality examinations, help drive the research and quality improvement agenda as well as being strong advocates on policy providing expert advice to governments in our respective nations. None of that has come easily and we continue to battle hard to ensure that our expert voice is heard loudly and clearly so that it continues to have a positive impact for our patients.
This month however is about celebration! I have mentioned to you about the range of events that we have planned between 9th – 13th October 2017 and we really hope you will register your Emergency Dept to help contribute to the celebrations.
Remember, it is still not too late to apply – all you need to do is ;
Register your interests
• Register your team at RCEM by emailing us.
• We will be putting up ideas on the website and you can be better linked to the celebrations as we progress.
• Tell us your Organising Committee and contact details by emailing EM50@rcem.ac.uk
What we need from you?
a) A team of 3-6 ED staff or more ( doctors, nurses, medical students, managers etc) each day during Oct 9-13th 2017 from every ED to run a stall in the hospital foyer or other public area to;
– Celebrate our great specialty
– Educate the public ( with each of the themes of the day – educational materials are available on the website)
– Inspire the next generation by supporting the work of the RCEM Foundation (Justgiving page – again details are available on the RCEM website)
b) Supporting the themes
The themes of the week are aimed at helping to educate the public about some of our work. We will be providing some educational materials that you can download and print from the website and there will also be a promotional video for each day that we are keen for you to disseminate via all social media channels.
Monday 9th October – Basic Life Support World Record attempt
Tuesday 10th October – Supporting World Mental Health Day
Wednesday 11th October – Violence prevention and alcohol awareness
Thursday 12th October – Accident prevention the very young and very old
Friday 13th October – Exercise & wellbeing for ED staff & the public
Please do look out for the RCEM Celebration Week videos that will be launched in the week before 9th October.
c) What we want to achieve?
We are really keen to involve as many EDs in the UK & Ireland as well as internationally to be involved ( again if you have contacts feel free to connect with other RCEM members internationally)
We want to raise the profile of the specialty by celebrating who we are and educating the public about just some of our work.
We also want to inspire the next generation by allowing people to donate to help launch the RCEM Foundation. You will see an article about the RCEM Foundation in the supplement this month too from John Heyworth.
And finally…..
As mentioned previously, on the evening of 12th Oct 2017 on the actual anniversary of the birth of the specialty we will be having a LIGHTING UP ceremony whereby a number of iconic buildings in cities in the UK & Ireland as well as internationally will be lit up in the RCEM colours!
We hope you will contribute if you can and send us your photos where ever you are in the world on the 12th October 2017.
As I said at the beginning, an historic month – a time to savour, reflect and look forward. Enjoy and be proud. You chose the best specialty in the world!!
Dr Taj Hassan
President, RCEM