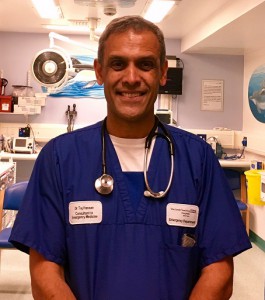 At every level in EM our job is to somehow influence and guide, inside or outside the clinical arena. At some levels that can be incredibly challenging.
Yesterday I had the pleasure of being invited to No 10 Downing Street with my Presidential colleagues for a dinner event to help inform and influence the Chief of Staff Gavin Barwell and the Health Advisor, James Kent amongst others about what the NHS needs to do to meet the challenges of the coming decade. It was a fascinating evening – convivial, refreshingly honest and yet no magic bullets. There is a clear sense however that the narrative has changed in terms of funding but will it be enough? Some of the issues like workforce go deep and the solutions will require time to address and move some 'supertanker' problems. I was able to put our case clearly and there is a sense that if the wider problems can be allowed to stabilize, at least our own workforce plans are ahead of others and we may well be able to navigate a safer passage. Let's see how we go.
The national scene
The job of influencing also involves a fair amount of shoe leather of course and the post winter lull has allowed time in the past few weeks to speak to colleagues at the highest level in NHS England, NHS Improvement, HEE and the Dept of Health. Discussions with the new Medical Director of the NHS, Steve Powis, in England have been remarkably aligned and positive. Colleagues in the devolved nations have been equally busy ensuring that the College message is consistent and 'out there' with relevant parties. Next week I will be speaking at the Kings Fund on the same issues. Last month in the supplement I spoke about the need for mental models of ensuring flow, maximising engagement and planning well to deliver a workforce that is 'fit for purpose'. All part of our RCEM Vision2020. Those same messages are being repeated in our attempts to positively influence a good plan for next autumn – accepting of course that a third of our Type 1 EDs are sitting at less than 80% performance at the height of a very warm Spring season.
An international perspective
Interestingly, I also had the pleasure a couple of months ago to spend a couple of days in Stockholm with a group of very enthusiastic and talented emergency physicians at their annual conference. I asked them what their 3 major problems were, expecting of course that sanguine Scandinavian look of calm authority and air of all is well. Instead they poured out their hearts with a rather familiar list of – 'not enough nurses, not enough beds and patients on corridors for 18-24 hrs'. Those who follow the Australian College of EM President, Simon Judkins, will know how he eloquently describes the frustrations of overcrowding in ED. So too do our colleagues in Canada, the US and many others. All of these friends and colleagues are struggling to make their politicians and policymakers realise that we are all behind the curve in meeting demand and complexity at the front door and time is not on our side as our populations age and live longer. Focusing on flow, wider engagement and the workforce seem good seeds to cultivate with strong positive leadership but they also need water (money) to really grow and be resilient.
College influencers!
Influence in the College has also been strengthened with some new appointments. These are leaders who have strong track records already and have now taken on some great roles within the College which will help us move forward ever more strongly. We are delighted to be welcoming Maya Naravi to be the new Chair of the Training Standards Committee. For those of us who have known Maya for a very long time it comes as no surprise and we are delighted to have her talent and commitment in such an important position. We were of course sorry to lose Julia Harris who has come to the end of her term as TSC Chair. She has been quite superb and will now be using her many skills more locally in Wessex. Thank you Julia for all you have done for us!
I am also delighted to have Sunil Dasan as the new Chair of the Sustainable Working Practices (SWP) Committee. Many of you will remember Sunil was part of the Sustainable Working Group back in 2013 and it is great to have him in this role. He is revamping the committee with a strong workplan so look out for more news from the SWP. Finally, it is a great pleasure to have David Gaunt as the new Chair of the Informatics Committee. David and his team have already begun to plan their strategy in this vital field for us and I am sure we will be hearing a lot more about the new digital EM agenda.
We are fortunate to have so many other team players and emerging leaders at the College who will influence positively and I hope you can find your way to help them and also put yourself forward perhaps even in some small way. You will no doubt already have some talent at least to 'influence' – that is what emergency physicians are good at after all! I leave you with one of my favourite quotes on influence:
"Any one of us can be a rainbow in somebody's clouds."
(Maya Angelou)
Dr Taj Hassan
President, RCEM