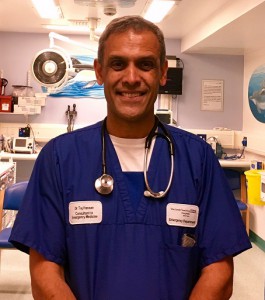 Spring has definitely arrived (I write this as most of us dig ourselves out of the snow after the Beast from the East!) and we can reflect on the continuing challenges that face our Emergency Departments and our staff. It is certainly a marker of the dedication, commitment and sheer 'can do' attitude that has allowed us to somehow maintain safety and provide decent care to our patients.
We know that sustainability in such circumstances is a real issue and that change is needed. I have written at length on the ways in which the College is advocating that change within the wider urgent and emergency care system to help improve flow and reduce crowding. What has been less emphasised are some of the macro changes that are occurring in our NHS and I thought it would be of interest to touch upon some of those proposals. Understanding the wider context of where our NHS is going, planning policy and influencing positive change are all vital to driving improvements in quality of care delivery and having satisfying sustainable careers for ourselves. As ever, across the UK, which is my focus there is a fair bit of difference and yet also some commonality to meet the challenges ahead. Sadly it does not immediately make your heart sing with joy but at least it has elements where with proper collaboration we can help deliver on what is needed.
The largest scale plans are of course in England. This started in 2014 with the publication of the NHS Forward View which progressed to Sustainability and Transformation Programmes (STPs). These plans have been much criticised for their lack of clinical engagement and at times been regarded as quite barmy (recommending cuts in ED attendances of 15-30% at times!) with associated cuts in an already scarce acute bed base and a magical movement of care to the community. There was a clear sense that change was being driven by the 'bottom line' and the lack of clinical collaboration would make successful change all the more difficult.
Just when we felt that people might be listening on the need for better engagement, on the horizon has come the concept (from the United States) of Accountable Care Organisations (ACOs) or as they have become in the blink of an eye Integrated Care Systems (ICSs). The former have attracted serious concern that these are the first tangible steps towards privatisation and indeed there are now at least two Judicial Reviews ongoing which has led to NHS England agreeing to a consultation on their development.
If you have not read about ACOs and ICSs and work in England, you should! They are ambitious and could be yet another macro change at a time when most people are crying out for money to be diverted to the most basic needs of the system. The broad ambition is for them to "improve the population's health by tackling causes of illness and the wider determinants of health" (Kings Fund). ICSs are an attempt to give local leaders more control over use of the collective resources at their disposal, with those in deficit being supported by those in surplus. I couldn't find much as to what they should do if they are all in deficit! Integrated care seems the best way forward according to respected independent think tanks like the Kings Fund. It will only occur through senior clinicians engaging with managers. The biggest risks it seems are 'organisational protectionism'. For those who have been involved in Trust mergers you will understand the scale of challenge in that phrase. Other concerns are the glacial pace and the time it takes to properly integrate teams and cultures. Not much cause for optimism there one might say. Much can be achieved through collaboration to meet rising demand and complexity but in a way that was where we started with the Forward View. Who knows, maybe in a few years we might have something called Regional Health Authorities (you have to be quite old in EM – 20 years plus to get that one!).
In Wales, £100m has been announced to deliver the recommendations of the Parliamentary Review of Health and Social Care, published in January 2018. The review recommends a focus on elements that will be familiar to us all;
Care should be organised around the individual
Individual and community involvement should be strengthened
Align the workforce with new service models
Invest in support to the front line
Maximise technology and innovation
The money has not however been necessarily tailored to need and the challenge will be to make the jam spread to where it is needed most.
In Northern Ireland, the 'Health and Wellbeing 2026 – Delivering Together' plan was published in May 2017 in response to the Bengoa report. The Delivering Together plan recommends the following:
A comprehensive approach for addressing waiting lists.
Make a significant investment in primary care.
Start a programme of service configuration reviews.
Bring forward proposals for the location and service specification for Elective Care Centres, and Assessment and Treatment Centres.
Embark on a period of engagement with staff and service users to build a collective view of how our health and social care services should be configured in the future.
Develop a Workforce Strategy.
Unfortunately there is no dedicated funded for transformation at present in Northern Ireland and that is an important immediate hurdle to overcome.
In Scotland, the Scottish Government seems to have continued successfully with the integration of Health and Social Care. Local authorities and NHS health boards were required to integrate the governance, planning and resourcing of adult social care services, adult primary care and community health services, and some hospital services. The hospital services to be integrated include Emergency Medicine, general medicine, geriatric medicine, rehabilitation medicine, respiratory medicine, psychiatry or learning disability, palliative care, addiction dependence service, mental health services and services provided by GPs in hospital. There remain significant challenges to progress this however.
Interestingly, unlike STP planning in England, the plans do not include the closing or downgrading of urgent and emergency services in any of the devolved nations. They all emphasise the importance of community services and improved public health (prevention). I am grateful to our devolved nation Vice Presidents, David Chung, Robin Roop and Sean McGovern as well as their Boards for all their hard work in this area. It is vital that we can learn from each other but also keep the core principles of what is required at the heart of our advocacy.
In conclusion, it is important to reflect and consider what we can learn and how we can best influence as we peer into the future for transformation of our NHS. There is little doubt that if we want our services for urgent and emergency care to be better in the next decade, we will need to engage at every level from local through to the national College Council.
For me there are 3 vital steps. Firstly, defining reality is vital. This allows developing a shared vision and clinical models that are achievable. Finally, then developing a pragmatic roadmap for the next decade will be required. More importantly we then need to stick to that core plan. If you have a passion to make things better for your department or your region, now is the time to step forward and get involved at a local and national level.
Dr Taj Hassan
President, RCEM