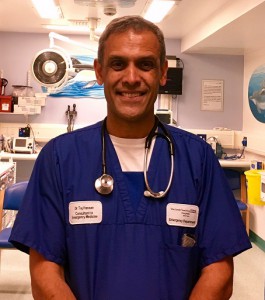 Measurement! As the first signs of spring begin to show it seems a key topic to think about, reflect upon and share some of my thoughts with you on. I am also influenced by the events of the past week or so (as I write this in the second week of January) which have seen the College very much on the front foot and so early in the New Year. More on that to come!
First on a personal note, I write this having seen in my first 100 days of presidency – a key milestone I am told by close friends. It has indeed been a remarkable time and we have managed to do so much. By the time you read this, we will have signed off and launched the RCEM Vision 2020 College strategy. A fantastic effort by so many people on Council & Executive. Our challenge now is to deliver on the goals we have set ourselves.
Returning to the joys of being on the front foot. As predicted by many independent commentators, wise sages and yours truly, the emergency care system performance in many parts of the UK & Ireland has deteriorated at a rate of knots. This despite the joys of very little other badness in the system (yet!) with mild weather, a flu vaccine that seems to be working moderately well and the usual noxious whiff of norovirus. By the time you read this much may have changed of course.
The queues of patients waiting outside EDs in ambulances, waiting for assessment, waiting for beds in crowded corridors or just waiting whilst staff battle to give them some dignified care has risen to pretty distressing levels. None of us were surprised that it would worsen but when you stand in the middle of your department late at night battling to keep a focus on safety and clinical care, it can seem a lonely place.
The ability therefore in the first week of January to meet with the key senior leaders running the NHS in England (with our Vice Presidents doing the same sort of activity in their respective countries) was certainly a good way to start 2017. Discussions with Simon Stevens CEO of NHS England and Jim Mackey of NHS Improvement were open, honest and constructive. In the same day we met the Prime Minister's top senior advisor at No10 and that too proved a help. In the same week I met the CEO and Chief Inspector of the CQC in England and that proved to be really excellent meeting with alignment on many fronts. No magic bag of cash of course but a real chance to talk about metrics and more importantly the impact on our patients of the latest worsening in performance and the impact of crowded departments on our teams. This was followed by a flurry of media activity by College Officers and am very grateful to Chris Moulton, Adrian Boyle & Sue Mason for all their help talking to the cameras and newspapers with me. The weeks and months ahead will no doubt be tough but I feel we are making progress on a number of fronts.
We have, as others have independently commented, given our messages with 'calm, clear, coherent' authority. We are also supported by an excellent policy team at College (Simon, Luke, Zoe supported by Gordon Miles our CEO) who provide us with the hard analytics and data to back up what we are saying. This is vital in today's world and though the team is small it is agile and fit to take on all comers. We are of course also supported by you all especially out in the Twittersphere. Please do follow me if you want the latest on our thinking @RCEMPresident or have a question and retweet and support us as much as possible.
There is little doubt that the first 100 days has been a bit of a whirlwind of meeting key policymakers, politicians and other 'players' like the media. I think the path we are creating is a good one for us but your feedback and support is greatly appreciated – so please keep it coming.
And finally ….we have also had a new addition to the Hassan household ( no..no more kids!!) but the arrival of Rolo, a black Lab puppy, who arrived about a week ago and is would you believe about 100 days old. Rolo seems very intent to please with the presents he leaves around the house which has in my wife's view added to the projects of 'puppy training' to the longstanding one of 'husband training'.
In any case, top tips on puppy training are more than welcome to @RCEMPresident #puppyrules!
Dr Tajek Hassan
President, The Royal College of Emergency Medicine
@RCEMPresident