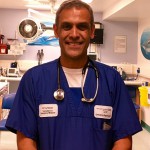 Happy New Year! There is no doubt that 2019 promises another year of challenge and also opportunity. I want to spend my last 10 Presblogs (!) describing some of the excellent work that has been done by the College as we aspire to support training and advise on care delivery in emergency care in one of the toughest environments in healthcare. I will review various elements of the RCEM Vision 2020 that we have sought to maintain focus on – where we have done well and where there is obviously much more work to be done.
Training – where we are?
Training seems to be a great place to start. Investing in our future is and always has been at the very heart of College activity. The College has undergone remarkable change both in the magnitude of those being trained, assessed and also coming out as successful consultant emergency physicians.
It has been a bit of a challenge to appreciate how far we have come since the days in 1996 when the first four individuals / guinea pigs sat the first ever examination in Emergency Medicine called the FFAEM or FRCEM as it is now. I was one of the lucky four that day. Fast forward 22 years and the two GMC surveys published at the end of November 2018 give a clear and objective profile of where we are.
The key take home messages are that supervision and the quality of training and clinical supervision is clearly improving with over 70% and 90% respectively being rated as good or very good. We also know there is significant variation amongst centres and regions that is being steadily addressed.
This also connects to the figures which show that the numbers of consultants on the GMC Register has increased 32% in 6 years. The number of trainees in EM has increased a remarkable 144% in that time since 2012 (Radiology was second with an increase of 17%). These numbers will also continue to increase in England certainly for the next 4 years ( and hopefully the devolved nations too in time as we agree strategies with them too) as a result of the 'Securing the ED Workforce' agreed last year.
But lets also be clear, training and being a trainer in the environment of the NHS or indeed in Ireland continues to be hard. For the first time the GMC asked a question about clinical burnout and the chart is unsurprising for those of us who do the job! It shows how much we have to continue to do to make things better for trainees and trainers ( the chart was similar for both).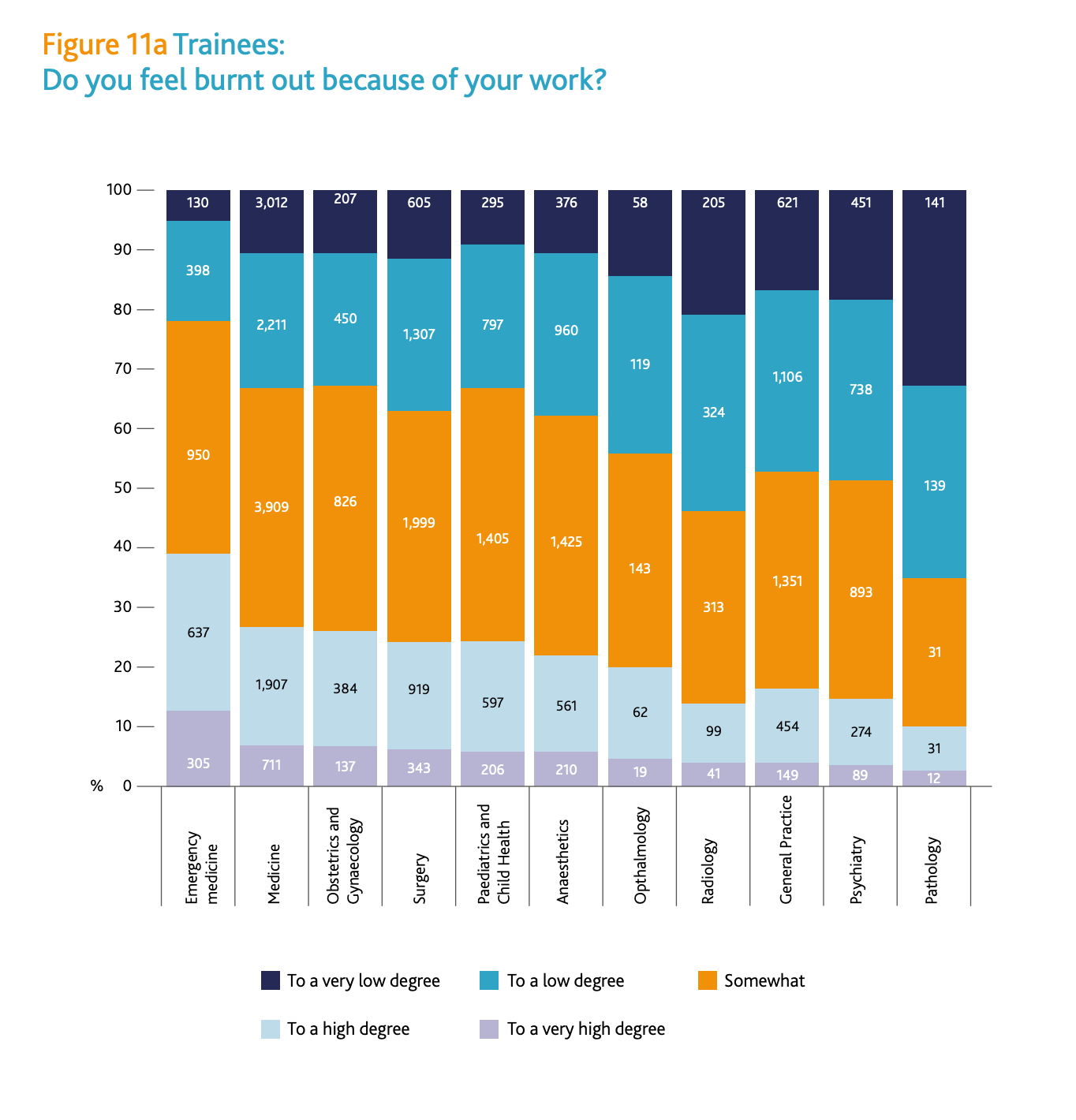 Delivering on solutions
The College has been at the forefront of a range of innovative schemes to help improve the training experience and allow training to be supported better. These include;
A pilot Less Than Full Time training programme that will be steadily expanded for those who wish to explore such options.
Increased time for trainers to provide dedicated shopfloor teaching with the RCEM Clinical Educators Programme.
A new RCEM EMLeaders programme that will launch in the Spring of this year.
More dedicated study time for trainees that has been approved by the Training Standards Committee.
Support to help profile the excellent EMTA Rest Campaign launched late last year.
More work to profile exemplar rotas that help trainees to work in a more balanced way.
Showcasing great examples of best practice with the RCEM Annual Awards including the Training Dept of the Year awards.
The new Consultant workforce strategy recommendations that will continue to add to the 'depth and breadth' of supervision and clinical care on the shopfloor and help share the acute workload better.
There will be other things too and we will continue to raise the profile of these initiatives this year but please do visit the RCEM website to find out more.
So, I wish you good luck in delivering on those New Year resolutions that you have been carefully sculpting. I hope we can progress on all of the above and more in the year ahead on your behalf!
Dr Taj Hassan
President, RCEM