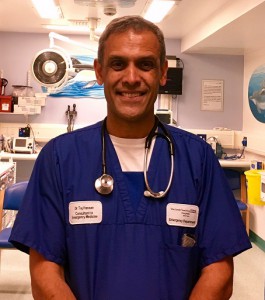 Welcome to November. Another month of activity at RCEM as we push ahead on a number of fronts within the College. You will know that we continue to drive hard on the policy front and the RCEM Vision 2020 which is now entering its third year is showing steady progress in all domains. I thought it would be good to highlight a few of those for you so that you can read them in more detail and hopefully will help in your daily work and further development is your departments.
Improving safety in the ED
The present crowding in our EDs was a key area of focus for RCEM Vision 2020. In late October we launched our 'Winter' campaign to help Hospital Boards understand ways in which they could help their systems in these tough times. We think this approach will allow Executive Boards to focus on important areas and reinforce important practices. We ask that you feed this to your senior teams and collaborate with them to keep our patients safe and deliver the best possible clinical care linked to need. Look out also for the video that we hope you can feed into your senior teams.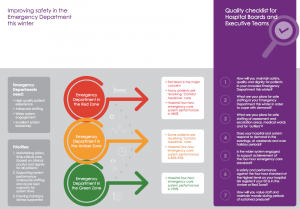 I am also pleased to say that the Summit that we ran with healthcare regulators in the UK & Ireland was a real success and we propose to run it again next year to a much larger audience. Look out for some outputs from that too that we will be launching very soon.
Workforce solutions
At the heart of RCEM Vision 2020 has been the major focus on staffing and the way in which we support our members to ensure we grow the workforce, find additional ways to support training and also to maximize retention especially amongst our older colleagues. The past few months has seen the publication of a number of documents (more to come in the next 3-6 months!) that seek to provide greater clarity and strategic direction in these key areas. I have spoken before about the major agreement that we signed last year with NHSE/I & HEE. I can promise you we are pursuing similar agendas urgently in the devolved nations.
The three documents that I really wanted to highlight to you are shown below and are on the RCEM website. Each in their own ways are utterly vital and provide the evidence and strategic approaches that if implemented well will produce stability, satisfaction and sustainability in your ED workforce. Importantly if done well your managers will save money ( we manage to spend £470 million on locum and agency in ED every year in England alone!), produce increased productivity because your workforce is more stable and happier(!) and of course lead to better patient care. I would also point you to the excellent work of Prof Michael West on the huge benefits of 'collective leadership and culture change' at every level. More on that in the future.
The key is that if you create the right vision for your system early, then you (if you are a Clinical Director) and your CEO will have something to march towards over the next 1, 3 and 5 years + from now. So get an appointment in his /her diary, make your case and you can make it happen. Good systems are well on the way already.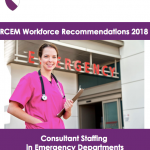 Showcasing excellence in Emergency Medicine
We recently marked the final submissions for the RCEM Annual Awards for 2018 and I can tell you that we had yet another year of a superb set of applications. What struck me most was the calibre of submissions from departments that in the past have seemingly struggled badly. It seems clear that the leaders in those systems are doing extraordinary things not only to stabilise their systems in adversity, raise morale but also have real positive impact on their staff and then of course their patients.
We look forward to welcoming the winners to the Annual Diploma Ceremony at Westminster Central Hall next month to help them celebrate success and showcase their excellence!
And finally….
Some of you have been disappointed that not enough news has been forthcoming about the 'Presidential poodle'. Rolo celebrated his 2nd birthday 2 weeks ago and as a black Lab he obviously expected more from the expression on his face that morning. However, he has become more responsive to the stresses of living in a young family environment – usually by trying to find a quiet corner. Something I too aspire to!
Have a good month.
Dr Taj Hassan
President, RCEM